---
All About Wood Fence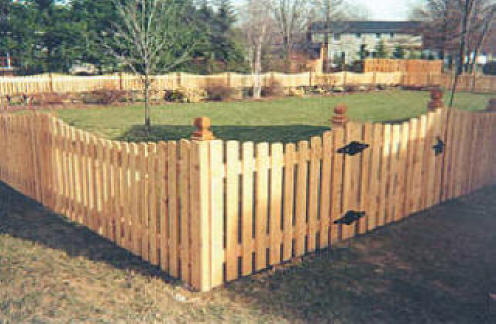 There are many practical purposes for a fence: to gain privacy, safely corral kids and pets, block wind and noise, and prevent unsupervised dips in a swimming pool. But the right type of fence also makes a strong aesthetic statement to your homes curb appearance to neighbors or even home buyers.

Going back 400 years, the popular residential fencing materials in this country has always been wood. In 2007 alone, people put up an estimated 59,000 miles of wood fence, enough to circle the world twice, and then some. Why wood? It's inexpensive and lightweight, to be sure, but so is chain link which offers no privacy unless you add privacy slats and the cost raises to the same price as Wood Fence just shorter in height. The main reason is that a wood fence can easily be shaped to give properties character and individuality. You can choose from dozens of styles, including linear post-and-rail and crisscrossing lattice, as well as myriad picket patterns and post-cap designs. And you can stain the wood to make it pop out or recede from the landscape as either a vibrant or subtle frame for what's behind it.
How Much Do They Cost? Fence panels run about $45 to $75 per 6 linear feet uninstalled, depending on style and wood species.

DIY or Hire a Pro? Are you an accomplished DIYer with a strong back, a yen to dig, and plenty of time? Go for it! But hiring a pro gets the job done quicker.

How Long Do They Last? About 20 - 30 years, if made of rot-resistant wood. Then posts are usually the first to go panels survive longer because they typically don't touch the ground, although prebuilt panels from Lowes or Home Depot etc seem to only last about 5 to 7 years before they start to crack in the rails and collapse.

How Much Maintenance? Posts should be plumbed and tamped every three years or so. If the wood has a coating, the schedule varies; clear toners and waterproofers need annual refreshing, semitransparent stains last two to three years, and solid-color stains go four to six. Paint is not recommended ever as it peels quickly.

Fence Masters Unlimited can typically install a fence in two days for the average size fencing whereas a DIY project seems to take people a week and sometimes weeks to complete the back breaking experience that most homeowners are not accomstommed to doing day to day in the fencing industry.
Cotact us today at 803-235-6846 to schedule a free estimate or email us from our contact page.
---